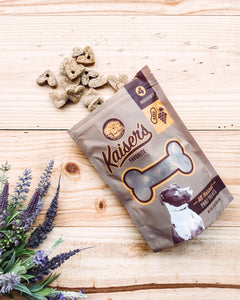 Every good dog deserves treats and your dog will love Kaiser's Favorite PB&J Treats. Kaiser's Favorite are made with real blueberries, peanut butter and chia. All wholesome ingredients that make these treats a healthy choice.
Benefits:
Sourced and made in the USA
Low calorie treat
Natural organic ingredients
No chemicals, sugar, salt, artificial color, filler or preservatives.
Ingredients:
Oat Flour, Peanut Butter, Blueberries, Chia Seed